Settlerday, October 24, 2020
Normally when I talk about what I broadly categorize as "settler nonsense," I do it through short posts, usually right after I've digested whatever the nonsense was. As I said earlier this week in a newsletter, I'm planning to stop doing that, and instead put together a weekly look at what settler nonsense I saw through the week. This week I wasn't on the computer too much, and still ended up with around twenty-five instances of nonsense.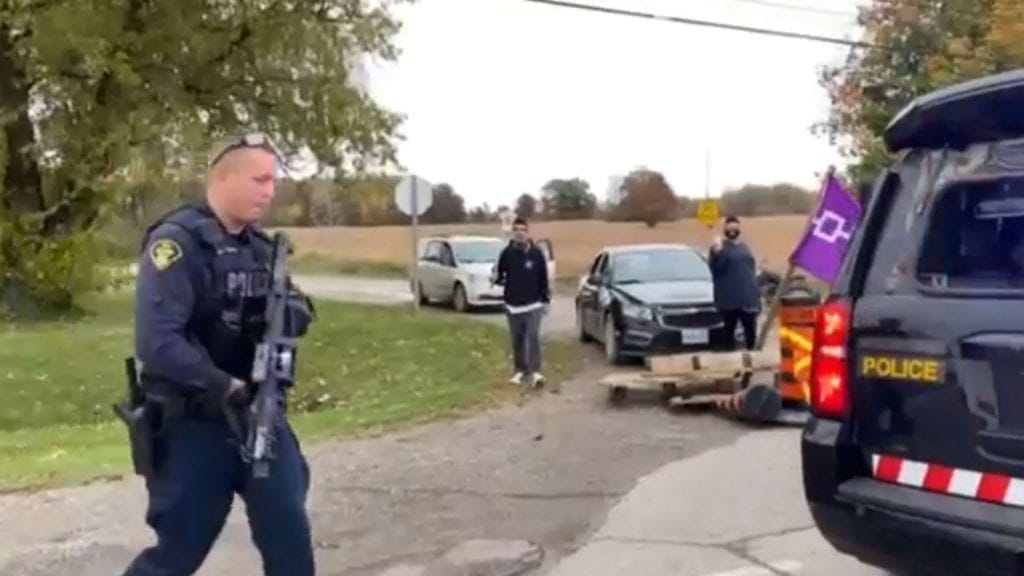 A thug with a gun walks around in front of land defenders.
But before I even get into any of that, I want to talk about this excellent opinion shared by Pax Santos on Medium.
Through it, Santos led me to reason that all settlerism is terrorism. There are a few conclusions that can be drawn from this, but most relevant is: I'm going to try and transition away from the calling it "settler nonsense," and start calling it "settler terrorism." As someone exposed to this sort of terrorism with sad frequency, there's a comfort in calling it "nonsense:" it makes it sound like teens breaking windows, not an international eugenics project.
So, with that in mind, here's a selection of acts of terrorism I saw in the news this week, that y'all may have missed. Again, this is my first time putting together something like this; it'll probably be clunky and disjointed. Even if it were well-written, it'd probably be difficult to read given the potential emotional weight of the content.
Oh - sorry, one more thing: please watch this video on intergenerational trauma first. As you learn about these contemporary events, try to remember that they will last far past these headlines, into all future human generations. (Then maybe watch this short video, with some headline coverage of events and cool music.)
I'd also like to share this piece from an uncle of Angela McConnell, one of the many murdered (or missing) Indigenous women, girls, and two-spirits. While most of the other links are fine un-clicked, I'd ask that everyone reading this take the time to read what Albert Bender took the time to write and share.
Thanks for taking the time to read, everyone. I know it wasn't a fun read, but I hope it helped share my perspective on what's happening around the world.